Charity
British Red Cross
The British Red Cross helps people in crisis, whoever and wherever they are. We are part of a global voluntary network, responding to conflicts, natural disasters and individual emergencies. We enable vulnerable people in the UK and abroad to prepare for and withstand emergencies in their own communities. And when the crisis is over, we help them to recover and move on with their lives. The owner of this page is raising money in trust on behalf of the British Red Cross, it is the page owners responsibility to ensure that the British Red Cross is able to channell any money raised for a specific appeal or stated purpose, prior to any fundraising taking place. In the unlikely event that this dialogue has not taken place, then the British Red Cross will allocate the funds raised where ever the need is greatest in furtherence of its charitable objectives.
Event details
Jailed and Bailed
19 June 2015
This year is the twelfth 'Jailed & Bailed' event which to date has seen 193 normally upstanding members of the City Of London arrested for heinous crimes. These have included falsely impersonating Robin Hood, concealing 3ft pokers and the very public misdemeanour, which brought the 2012 Lord Mayor's Show to a grinding halt. Since 2004 felons have raised over £369,000 to support the work of the British Red Cross.
Please note Virgin Money Giving isn't responsible for the content fundraisers post on their pages, but if you see something you feel is offensive or inappropriate, please
let us know
and we'll look into it.
Master Glass Seller's Jailed and Bailed Fund
Fundraiser:
Gwenllian Rhys
My page: http://uk.virginmoneygiving.com/MasterGlassSeller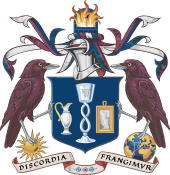 I've been invited by the Lord Mayor, Alderman Alan Yarrow and the Lady Mayoress to be Jailed & Bailed at The Tower on 19 June.
The day starts at 10.30am with coffee in the Mansion House but I'll hardly have time to drink it before The City of London Police will arrest me - goodness knows what the charges will be (but you know, I don't always behave myself!) - and I'll be transported to The Tower where I'll remain until I reach my Bail sum of £1000.
What's more, I'm on water rations (courtesy of Pol Roger) which I suspect may be sparkling.
I lunched with the Judges at the Old Bailey at the end of March and took the opportunity to ask their advice. "Remember you're innocent until proved guilty" they said, but as for helping me get out of Jail, I strongly suspect they're in cahoots with the City Police and I'm not sure they'll be of much help to me on the day so I'm relying on YOU to get me out.
I've Women in the City to run and, more importantly, a cat (who thinks he IS the Lord Mayor) to feed and lots of exciting Livery events to attend in the coming months.
Your donation will help secure my release and support the British Red Cross in all its good work.
REMEMBER:
Bail is set at

£1000
but I know with your help
I'll raise
MUCH MORE
!!!!
Thanks!
GWEN: Master Glass Seller
Recent donors
Robin Arculus £10.00 (+ £2.50 giftaid)
21.07.15 I hope this brings you up to £1500. Love to CJ!
John & Sylvia
28.06.15 Best wishes
david Illingworth £30.00 (+ £7.50 giftaid)
23.06.15 Gwen - Glad to see you survived
Richard Katz £20.00 (+ £5.00 giftaid)
22.06.15 Gwen This is to contribute to the 'keep her locked up fund' but I guess it isn't enough as I gather they let you out or you escaped! Hope you had fun Best wishes Richard
Mei Sim £50.00
21.06.15 Hope you enjoyed the experience
Shirley Creed £25.00 (+ £6.25 giftaid)
19.06.15 Great cause Master Glass Seller ! Hope to see you soon Gwen, all the best for an early release
Paul and Elaine Wiltshire £20.00 (+ £5.00 giftaid)
19.06.15 I hope the staff haven't lost the keys.
Mary Taffler £10.00 (+ £2.50 giftaid)
18.06.15 Pob lwc ,it sounds like it will be a difficult day I do hope you will survive it !
Suzi Freeda £25.00 (+ £6.25 giftaid)
17.06.15 Good luck ....... and enjoy !!
The Solomons £50.00 (+ £12.50 giftaid)
16.06.15 Now you are free! Dam it!
CSB £20.00 (+ £5.00 giftaid)
15.06.15 Those pesky Red Cross people will stoop to anything to get money. Free 'The Brackley One'!
Peter Smith £100.00 (+ £25.00 giftaid)
14.06.15 As your lawyer I had better make sure I'm available to extricate you from the Tower on the 19th. By the sounds of it you won't want me to come along too early.
Nicholas Gandy £20.00 (+ £5.00 giftaid)
13.06.15 With Pol Roger water on tap you don't want to be released too soon!
Alistair Telfer and Manuel Cerrone £50.00 (+ £12.50 giftaid)
12.06.15 Have they any idea what they are letting themselves in for! No guesses on who starts the prison riot first. Enjoy xx
Estelle £45.00
12.06.15 Gwen, we had a quick 'car boot sale' over lunch in aid of your freedom. Sold all sorts of tat byt made £45!
De £50.00 (+ £12.50 giftaid)
12.06.15 Drink in the Clink and be Merry until we get you out!
Michelle Hemstedt £20.00 (+ £5.00 giftaid)
12.06.15 Don't cause any trouble while you're in there!
Claudia Sanchez Buenaventura £10.00 (+ £2.50 giftaid)
10.06.15 Good luck!
Carole Plant £50.00 (+ £12.50 giftaid)
09.06.15 Leave your mark on the Bloody Tower Gwen - well done!!!! Best wishes, Carole
Carol Bell RPP Hon.FAPM
09.06.15 Always happy to support the Red Cross, Gwen... Have a glass for me while you are in the Tower! See you at the next Women in the City Event.
Withers Women's Networking Group £100.00
22.05.15
Renter Warden £50.00 (+ £12.50 giftaid)
05.05.15 Apparently it only costs £999 to be freed from Bodmin Jail. Cheaper in the West Country!
Inna Baigozina-Goreli £50.00
02.05.15 Good luck, Gwen!
Liz Wheatley £10.00 (+ £2.50 giftaid)
23.04.15 Well done. I hope all goes well.
Andrew, Glass Seller £50.00 (+ £12.50 giftaid)
23.04.15 Well done- fund raising for a good cause with the hard work being done by others!