Charity
ChinaNext Foundation
ChinaNext Foundation supports and fosters the development of civil society in China. Within the remit of existing law, we aid, support and train workers in China's voluntary sector in the hope of developing awareness and skills necessary in the next generation Chinese citizens for a functioning civil society. We encourage the participation of the younger generation in the UK in the process.
Event details
10 February 2014
ChinaNext Forum series is a high profile charity event aiming at raising social awareness in the Chinese community. Help us make it greater!
Please note Virgin Money Giving isn't responsible for the content fundraisers post on their pages, but if you see something you feel is offensive or inappropriate, please
let us know
and we'll look into it.
Making a great ChinaNext Forum together
Fundraisers:
Sisi Zhou
My page: http://uk.virginmoneygiving.com/team/Chinanext2014forum
HELLO!
You must have heard a lot about China, good or bad. Most on economics - phenomenal, important, uncertain, risky... But, are you curious about how billions of Chinese cope with the horrendous social changes attendant to its rapid economic growth? Are you baffled with its social unrests and human right issues? China is so big, in many ways, so these questions are important to everyone.
ChinaNext Forum is the first of its kind to bring together best minds from both China and the UK to discuss those questions and debate key issues related to social transformation in China and how the non-for-profit sector should get involved and make its due contribution.
Last year, our Forum inaugurated with a Youth Dialogue at LSE and two sub-forums at Cambridge University and Oxford University. It featured invited speakers from 4 most influential charity organisations in China (Greenpeace China, Free Lunch, Critial Illness and Dialogue in the Dark) and some prominent advocators of civil society development in China, such as Prof. HE Weifang, Prof. YU Jianrong and CHEN Youxi .
...and here we are again.
Built on last year's success, ChinaNext Forum 2014 will run five sessions at top UK universities, including Cambridge, Oxford, LSE and SOAS, from the 6th February to the 10th this year. We have invited again a carefully selected group of speakers, including Sir Christopher Hum (former British Ambassador to China), Mr. WU Chong, the CEO of Adream Foundation, Prof. HE Weifang, Prof. Tong Zhiwei and Prof. Zheng Gongcheng to come. You may or may not have heard of them—if it's the former, you have missed a lot. These are the cutting edge thinkers and speakers in China's ongoing transformation.
We need your support to turn the events a great success
We decided this year, for the first time, to open the forums to the general public. But in order to do so, we need your help.
All our preeminent speakers come to the UK voluntarily with the goodwill to communicate with the international society, but without your help, we wouldn't be able to pay for the flight tickets and accommodation to make the charity events worth its while.
Please help us turn the events to another series of fascinating debates about China's future. So much talk about China's economies and China's human rights, but for many audiences, it was the first time they ever heard the voices of the frontline workers themselves!
Special offer!
All our donors will have dedicated and reserved seats in most of our forums. You will have exclusive access to the professors and civil society practitioners who you only usually read in the news.
We will make another special to you: the first 50 donors with £100+ donation and sign a gift aid form will get a LSE China Development Forum tickets for FREE . These cost £159.99 (£139.00 early bird) on the official price!
China Development Forum is a major annual China-focused conference in its sixth year. Don't miss the chance to learn more about China!
ChinaNext Forum 2014 Agenda
6th February 2014 @Oxford University Mr. Wu Chong (CEO of Adream Foundation) speech: "Live in the future: Reshaping China's educational system"
7th February 2014 @SOAS Ms Isabel Hilton, Mr. Wu Chong and SOAS Professor: Panel Discussion: "Social Development and Civil Society : Dialogue between UK and China"
8th February 2014 @LSE "China Development Forum (CDF): "Rebalancing China" (over 20 eminent Chinese scholars and business facilitators will be present)
9th February 2014 @Cambridge University Speech and Panel Discussion "Pioneers of bridging China dream and reality "(Speakers include Prof. He Weifang ,Prof. Tong Zhiwei, Prof. Zheng Gongcheng, Mr.Wu Chong and Cambridge professor)
10th February 2014 @Oxford University Panel Discussion: China's Legal and Social Welfare Reform (speakers include Prof. He Weifang, Prof. Tong Zhiwei, Prof. Zheng Gongcheng )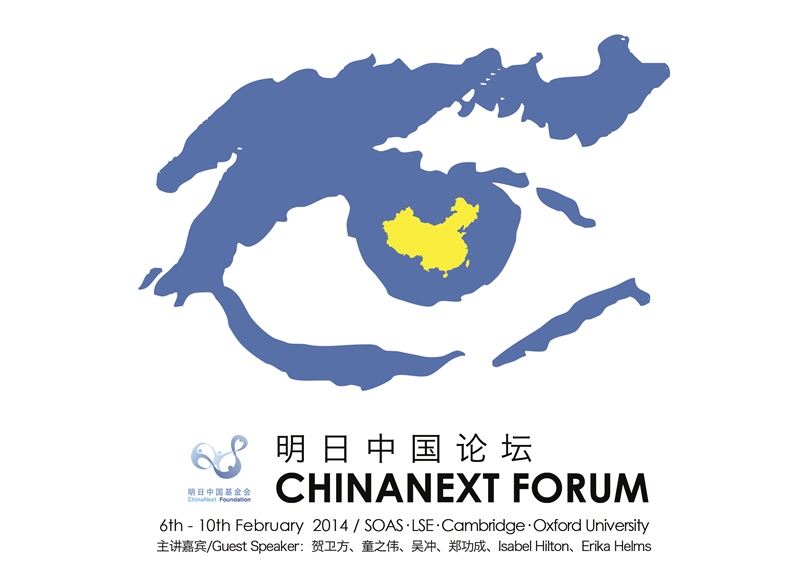 How we use your money
The donation we received through this fund raising will be used to pay for the costs of running these forums. Any excess donation will be used to support CNF's daily charitable activities.
ChinaNext Foundation has but two programmes.
Our NextFellow programme supports a group of carefully selected charity leaders in China to do their good deeds. We select them, vet them, monitor them and help them so they could learn, communicate, improve and in turn benefit the hundreds of thousands poor children, disabled, less privileged and so on. China's such a big country that pouring money into them might not be the most efficient ways of using charity money. We decided that training a team of highly effective and good charity leaders are the best way we from the UK can help.
Our NextMinds Programme focuses on advocacy. We increase citizenship awareness, we cultivate the spirit of volunteerism, and we facilitate the exchange between international and Chinese civil societies. We encourage more young people to learn the truly exciting story in China and we introduce the best charities and leading thinkers to you.
Overall, our goals is to continue to support the growth of a new generation of young Chinese who have a strong sense of modern citizenship, and are capable of leading China´s next chapter to join with the rest of the world in shaping a common future for all. We are devoted to building a better China and we need your participation to make real change happen.
The chart below shows how we used your donation in the latest financial year: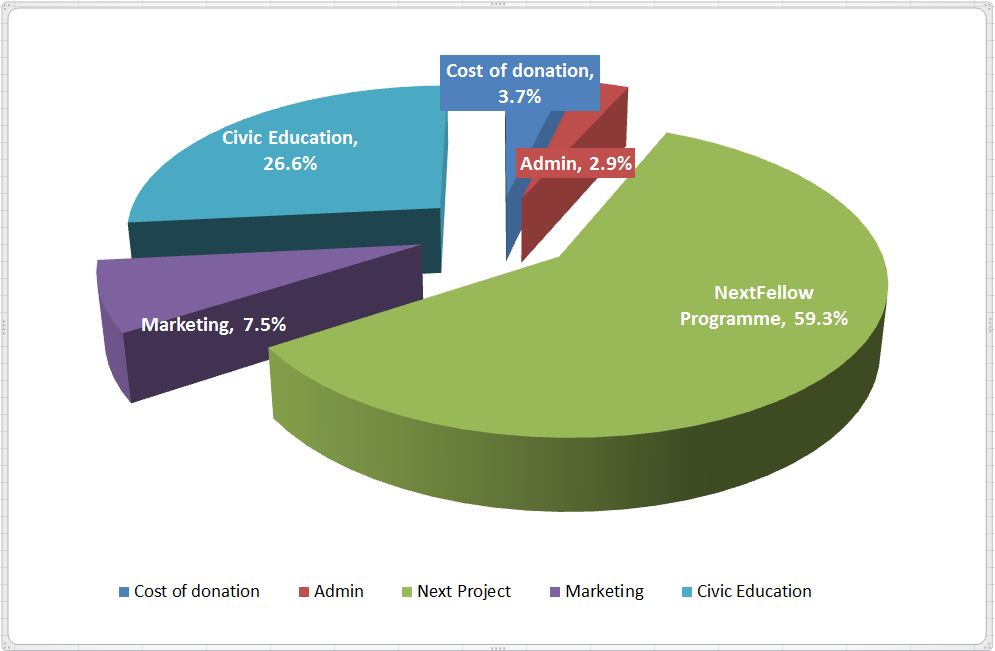 Who are we?
ChinaNext Foundation (CNF) is a non-for-profit charitable organisation regulated by the Charity Commission of England & Wales (registration No. 1149502). It is run by a group of UK-based Chinese professionals and academicians with the aim to support the growth of the non-for-profit sector in China. CNF seeks to serve as boundary-spanners between civil organisations in China and the UK, and contributes to China's long-term social transition by supporting the growth of its non-for-profit organisations.

More about the ChinaNext Foundation and its ongoing civil education programs, please visit http://www.chinanext.org/
Recent donors
Showing results 1 - 11 of 11
Anonymous £20.00
09.02.14
Rong Yue £100.00 (+ £25.00 giftaid)
06.02.14 For a better future for China
hao luo £100.00 (+ £25.00 giftaid)
06.02.14 WEIMINHUA
Wei Dai £50.00 (+ £12.50 giftaid)
06.02.14 I believe that this is a brilliant idea. Sincere thanks to the initiators and volunteers behind it.
HAO LUO £100.00 (+ £25.00 giftaid)
05.02.14 HAO'S supports for ChinaNext
Sue Yang £100.00
04.02.14
Betty Moore £100.00
04.02.14 I hope this gift create an environment on Art appreciation.
Jeremy Dong £100.00 (+ £25.00 giftaid)
02.02.14 Another aspiring forum......
Jenny Liu £20.00
01.02.14 I do believe that it is our responsibility to support the civil society of China. Good job and this should be carried on!
Mike Liu £100.00 (+ £25.00 giftaid)
01.02.14 Good work. Look forward to the forums! Participating: Oxford (6th Feb) LSE (8th) Cambridge (9th) Thanks@
Lisa Wang £20.00
27.01.14 As a British Chinese, I feel very strongly about this cause. This is truly forward-thinking work, and deserves all the success in the world. I just wish that I could come to the forum!