AfriCat Pangolin Research Project
Why we need your help
The AfriCat Pangolin Research Project
With no tourists visiting Namibia and Okonjima Lodge there is no income to meet the essential costs of the research - can we help?
Pangolins are in big trouble at present as they are being caught in their thousands and sold mainly for their scales which are thought to have medicinal properties which they really do not have. Recently 12.7 tons of pangolin scales were seized in Singapore which represents around 36,000 animals. This is just the tip of the iceberg. Despite their dinosaur or reptilian-like appearance, they are in fact mammals. Pangolins eat ants and termites. While they do not have great vision, they do have an amazing sense of smell, with this they are able to sniff out ant and termite nests. They use their long sticky tongue, which is as long as the body and extremely flexible, to eat their prey.
While trafficking is pangolin biggest threat they also die as a result of vehicle accidents and being electrocuted on electric fencing. The loss of habitat, drought and persecution by scared villagers also has an impact on numbers and their future survival. They don't have many natural predators as their scales are very protective when rolled into a tight ball.
The AfriCat Pangolin Research Project is the first of its kind within Namibia to focus on the ecology of the ground pangolin and you can read more here. The research team at AfriCat would like to buy more equipment such as camera traps and tracking equipment to enable them to find out more about these wonderful animals and how to help them.
Covid 19 impact - with no tourism in Namibia and therefore no guests staying at Okonjima there is no income for the work of the AfriCat Foundation. This has necessitated a curtailment in some aspects of the research as without money for salaries, fuel, and equipment it's hard to run a full programme. The research programme for pangolins on Okonjima Nature Reserve is now being funded through research grants and donations including those from AfriCat UK.
Thank you so much from AfriCat UK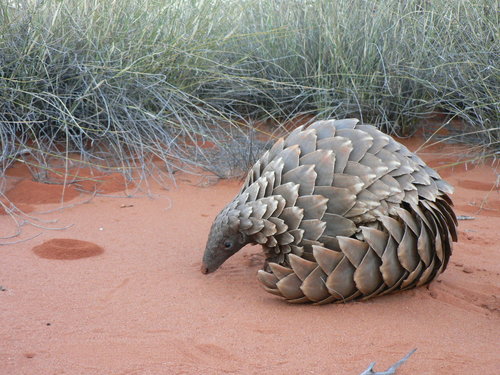 How you can support us
Make a donation
Select the amount you'd like to give or fundraise towards
Supporters
---
May 09, 2020
Tash Underwood
£5.00
(plus £1.25 giftaid)
---
May 05, 2020
Ann-Marie Fry
£25.00
(plus £6.25 giftaid)
---
---
Feb 16, 2020
Janet
£10.00
(plus £2.50 giftaid)
---
Feb 16, 2020
Andy P
£25.00
(plus £6.25 giftaid)
---