Age UK Somerset
Age UK Somerset Coronavirus Appeal
Why we need your help
URGENT. Please help us raise £10,000 to support older people in Somerset during the Coronavirus crisis.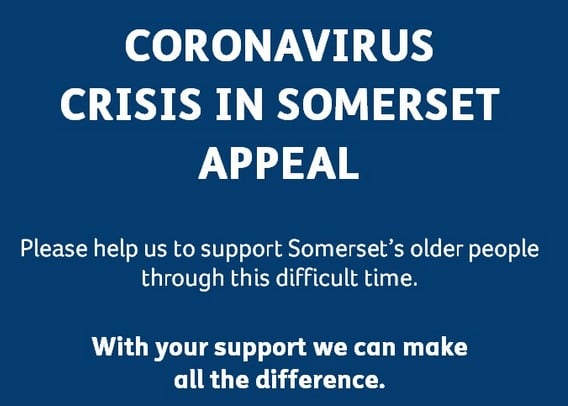 To keep vulnerable older people safe and well we need your support and donations.
We are receiving a huge number of phonecalls from older people worried about coronavirus and in distress about potentially running out of food and other necessary items.
We have 185,000 people over 65 in our area. More than 60,000 live on their own. We want to make sure we can help all that need us, and be able to reassure the families, especially those who live outside the county, that we are doing all we can to protect and support their loved ones.
Politicians keep saying we are "at war" with coronavirus. If that is the case, then as the largest charity for older people in Somerset and North Somerset we are close to the frontline and need a "war chest".
What we are doing
Providing information and advice by telephone and email

Providing support and a friendly reassuring voice to callers.

Transforming our Befriending service to a telephone service and planning to expand


Aiming to train our Information & Advice Volunteers to help with Attendance Allowance applications by phone.

Working on ways to reduce social isolation and negate the physical and mental health impact this may have.


Working on ways to bring elements of our Ageing Well service into the home (virtually)

Putting together new services to meet altered demands

Collating county-wide offers from wonderful volunteers and businesses offering help.

Considering how we can maintain contact for those without internet access.

Processing new information and guidelines every day, learning on the spot, researching, influencing, solving problems, liasing, co-ordinating, communicating and working long hours.



We are also working with local authorities and other organisations and community groups to work out, at very short notice, who can offer what and where in this time of great worry and need, and what services and support we can offer to ensure our resources can be put to their best use.

Why we need your help
As an independent local charity we are responsible for raising our own funds. We regrettably but rightly have had to close our only paid-for services - our exercise classes and our toenail cutting service. This loss of income at a time of unprecedented and until recently, unexpected, demand, means that to keep vulnerable older people safe and well we need your support and donations.
WITH YOUR HELP WE CAN GET THROUGH THIS.
Thank you for playing your part.

This campaign is now closed, and no longer accepting donations.
Supporters
Oct 17, 2021
Anonymous
£16.99
(plus £4.25 giftaid)
---
Aug 16, 2021
Anonymous
£50.00
(plus £12.50 giftaid)
---
---
Jun 24, 2021
Julian Merrell
£50.00
(plus £12.50 giftaid)
---
---
May 11, 2021
Jane
£9.00
(plus £2.25 giftaid)
---
May 11, 2021
Carol
£4.19
(plus £1.05 giftaid)
---
May 11, 2021
Anonymous
£27.00
(plus £6.75 giftaid)
---
Apr 26, 2021
Anonymous
£50.00
(plus £12.50 giftaid)
---
Apr 19, 2021
Jane
£9.00
(plus £2.25 giftaid)
---