The Cartoon Museum needs your help
Why we need your help
The Cartoon Museum closed on 18 March, resulting in no income from visitor admissions, from the museum shop, events or from learning workshops.
It may take time on re-opening for our visitors to return - seniors (our super adults!) and tourists, children, student and school visits. In 2021 we are budgetting for an 80% cut in visitor numbers. In July we were awarded £98,000 by the National Lottery Heritage Fund, which will help to combat some of the immediate financial issues we face. However, we are not out of the woods yet! It is essential that we continue fundraising to secure the longer-term future of the museum, and we really need YOUR support to do that.
We have received over 420,000 visitors since 2006 and built a nationally important collection of cartoons, comics and caricatures, and a library of 18,000 comics and books - all without regular government or local authority support. Over 50,000 children and adults have attended cartooning, comic and animation workshops and the museum receives 3,000 student visits each year. During closure we have uploaded and circulated our learning materials as a free downloadable resource for families to use at home and uploaded our current show, Dear Mr. Poole, at www.cartoonmuseum.org.
During our closure we have continuing, unavoidable, expenditure and are very concerned about our ability to survive over the next few months. We need to raise £150,000, and are hoping that our friends, charitable trusts and the wider public will support us. The Cartoon Art Trust as a charity also qualifies for gift aid.
Thank you for your support.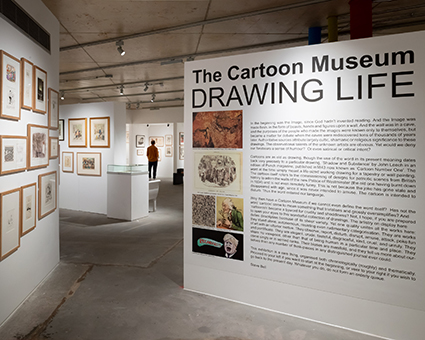 £88,229.69
raised towards £150,000.00 target
Supporters
Aug 01, 2020
Becca
£20.00
(plus £5.00 giftaid)
---
Jul 30, 2020
Brian Wood
£200.00
(plus £50.00 giftaid)
---
---
Jul 28, 2020
Anonymous
£20.00
(plus £5.00 giftaid)
---
---
Jul 28, 2020
Tony Reeves
£20.00
(plus £5.00 giftaid)
---
---
Jul 28, 2020
Nathan Moore
£20.00
(plus £5.00 giftaid)
---
---
---
Total raised so far
£88,229.69
Total plus Gift Aid £99,554.18
Direct donations
£48,883.69
Raised offline £39,346.00