The Cartoon Museum needs your help
Why we need your help
We are re-opening on 18th May with two new exhibitions. Come see us soon !
We are so grateful for all the recent donations in memory of our patron, Prince Philip, The Duke of Edinburgh. He was very kind to the museum after the past 20 years, and had a huge love of cartoons. With your AMAZING help we have managed to raise funds to keep The Cartoon Museum afloat over the past year. We are very grateful for your support and the cartooning community at home and abroad - for this small museum of laughter. Like other museums it has been a hard struggle, and Covid has been particularly cruel to us - we lost Alison Brown to Covid on 14 January, one of our six employees, aged just 39. Ali ran the museum shop and was the face of the museum welcoming visitors at the front desk (with her inimitable smile, Geordie wit, and shock of green hair). As I am sure you will undertsand all staff, volunteers and trustees are devastated by this news.
Of course we do not know yet when we can re-open in 2021 and we are still budgetting for an 80% cut in visitor numbers. Since we temporarily closed it has been a tricky time resulting in no income from visitor admissions, from the museum shop, events or from learning workshops. In July we were awarded £98,000 by the National Lottery Heritage Fund, which will help to combat some of the immediate financial issues we face. However, we are not out of the woods yet. It is essential that we continue fundraising to secure the longer-term future of the museum, and we really need YOUR support to do that.
We have received over 420,000 visitors since 2006 and built a nationally important collection of cartoons, comics and caricatures, and a library of 18,000 comics and books - all without regular government or local authority support. Over 50,000 children and adults have attended cartooning, comic and animation workshops and the museum receives 3,000 student visits each year.
We still have a target of £150,000, and are hoping that our friends, charitable trusts and the wider public will continue to support us. The Cartoon Art Trust as a charity also qualifies for gift aid.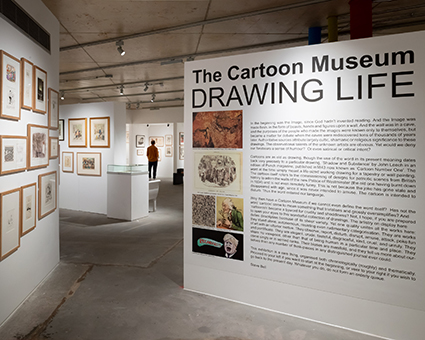 £118,313.67
raised towards £150,000.00 target
Supporters
Oct 22, 2021
David Gollancz
£30.00
(plus £7.50 giftaid)
---
---
Aug 19, 2021
Arthur
£50.00
(plus £12.50 giftaid)
---
---
---
Jun 27, 2021
Anonymous
£50.00
(plus £12.50 giftaid)
---
May 31, 2021
Anonymous
£20.00
(plus £5.00 giftaid)
---
---
---
May 04, 2021
Anonymous
£20.00
(plus £5.00 giftaid)
---
Total raised so far
£118,313.67
Total plus Gift Aid £130,138.85
Direct donations
£55,397.67
Raised offline £62,916.00