The Mothers' Union
Thank You Key Workers Appeal
Why we need your help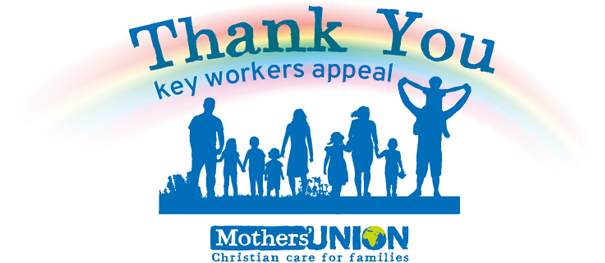 Help us say a heartfelt "thank you" to families of key workers who have continued to go above and beyond to help others during the Covid-19 pandemic.
There has been an outpouring of compassion and care during the crisis from our hospital workers to our delivery drivers, carers to cleaners and our refuse collectors to bus drivers. But we are very aware that because of their personal sacrifices quality family time has not always been possible.
Families and supporting family life have always been at the heart of our work, and we recognise the importance of making time step away from the stresses of everyday life, reconnect and create memories - enhancing wellbeing is essential to healthy lives and healthy families. Therefore we are extending our existing Away from it all Programme (AFIA) to say a special "thank you" to key workers in these unprecedented times.
Your donation will help provide a range of day trips/experiences and short breaks for families of key workers to help rebuild connections and togetherness, especially for those who have been kept apart or who are on low incomes - families who would generally be unable to have experiences like this.
Would you like to apply or know someone who deserves a break?
To find out more about how you can nominate a key worker or for key workers to apply directly, go to mothersunion.org/thank-you-keyworker-appeal
We care deeply and it is our hope that these experiences and breaks can be used by families that would normally struggle to have time out together.
Thank you for supporting key workers throughout the Covid-19 pandemic.
We will use all funds received until our target is reached to support key workers through AFIA holidays. Any surplus funds will be used to assist the existing AFIA holiday program which provides well needed breaks for vulnerable families such as those at risk of poverty or domestic abuse.
This campaign is now closed, and no longer accepting donations.
How you can support us
Make a donation
Select the amount you'd like to give or fundraise towards
Supporters
---
---
---
Nov 03, 2020
Eileen Coombs
£50.00
(plus £12.50 giftaid)
---
Nov 03, 2020
Pat
£20.00
(plus £5.00 giftaid)
---
---
---
---
Sep 27, 2020
Anonymous
£270.00
(plus £67.50 giftaid)
---
---
Total raised so far
£23,478.00
Total plus Gift Aid £23,698.00
Direct donations
£1,278.00
Raised offline £22,200.00