The Mayor of St Albans sleepout at home
Why we need your help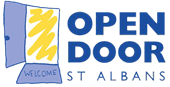 The Sleepout at Home has been created to replace the annual St Albans Sleepout that takes place at Oaklands College every year. Unfortunately, due to the current circumstances, the event had to change into a virtual one instead. With cancellation of fundraising events throughout the year, Open Door really need you now more than ever.

Started by the Abbey and the Diocese in the 1990s, the sleepout has raised hundreds of thousands for the homeless charities taking part and I hope to continue that this year.
I will be sleeping out on my sofa for the night, please support me and donate if you can.
Open Door continues to help vulnerable people who are homeless or at risk of becoming homeless. They also run the award winning volunteer led Winter Beds Project providing emergency bed spaces in extreme weather. With your support and sponsorship, they can continue their vital work.
Thank you.
Councillor Janet Smith
Mayor of the City and District of St Albans
Thank you for your support!
Supporters
---
Dec 15, 2020
Anonymous
£20.00
(plus £5.00 giftaid)
---
Dec 11, 2020
Liz Needham
£50.00
(plus £12.50 giftaid)
---
Dec 10, 2020
Marymayfly Msynard
£40.00
(plus £10.00 giftaid)
---
Dec 09, 2020
Anonymous
£10.00
(plus £2.50 giftaid)
---
Dec 04, 2020
Cllr Malachy Pakenham
£20.00
(plus £5.00 giftaid)
---
Nov 25, 2020
Robert Donald
£20.00
(plus £5.00 giftaid)
---
Nov 25, 2020
David Mitchell
£10.00
(plus £2.50 giftaid)
---
Nov 25, 2020
Jamie Day
£25.00
(plus £6.25 giftaid)
---
Nov 24, 2020
Dreda Gordon
£20.00
(plus £5.00 giftaid)
---
Total raised so far
£450.00
Total plus Gift Aid £555.00
Direct donations
£450.00
Raised offline £0.00