Raising Health
London Marathon 2021 RAISING HEALTH
Why we need your help
Let's support Haseeb Ahmad who will be running the Virgin London Marathon on 3rd October 2021 as a blind runner.
Haseeb will be running on behalf of Raising Health, the charity for Leicestershire Partnership NHS Trust (LPT). He is running in aid of our Miles for Smiles campaign, which will provide days out for our patients at Mill Lodge, Narborough with Huntingdon's Disease.
Haseeb is LPT's Head of Equality, Diversity & Inclusion and is registered blind creating additional challenges for him. So let's support Haseeb and his Miles for Smiles appeal.
Miles for Smiles is an appeal which funds a specially adapted vehicle.
Help us to keep this vehicle on the road because those miles really do bring smiles!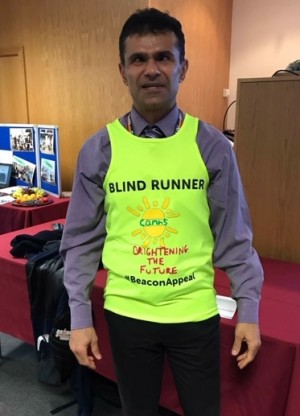 Mill Lodge in Narborough cares for people with Huntingdon's Disease. As their condition worsens, people with HD experience involuntary movements and difficulty in sitting up without support from a special wheechair. Often the wheelchairs are too big for even wheelchair friendly taxis. Our HD patients just want to do normal things like going on days out but transport can be difficult. Donations will help patients at Mill Lodge to take advantage of their 'good days' to get out and do the things we probably take for granted but mean a lot to them.
£310.00
raised towards £2,000.00 target
This campaign is now closed, and no longer accepting donations.
Supporters
Nov 11, 2021
Georges Dad
£10.00
(plus £2.50 giftaid)
---
Oct 19, 2021
Anonymous
£40.00
(plus £10.00 giftaid)
---
Oct 16, 2021
Anonymous
£20.00
(plus £5.00 giftaid)
---
Oct 15, 2021
Ellie
£5.00
(plus £1.25 giftaid)
---
Oct 15, 2021
Andrea LF
£10.00
(plus £2.50 giftaid)
---
Oct 14, 2021
Iain D
£10.00
(plus £2.50 giftaid)
---
Oct 13, 2021
Charlotte
£10.00
(plus £2.50 giftaid)
---
Oct 12, 2021
Anonymous
£10.00
(plus £2.50 giftaid)
---
Oct 12, 2021
Sethina
£10.00
(plus £2.50 giftaid)
---
---
Total raised so far
£310.00
Total plus Gift Aid £387.50
Direct donations
£310.00
Raised offline £0.00