Derwen College
Derwen Easter Challenge
Why we need your help
The Derwen Easter Challenge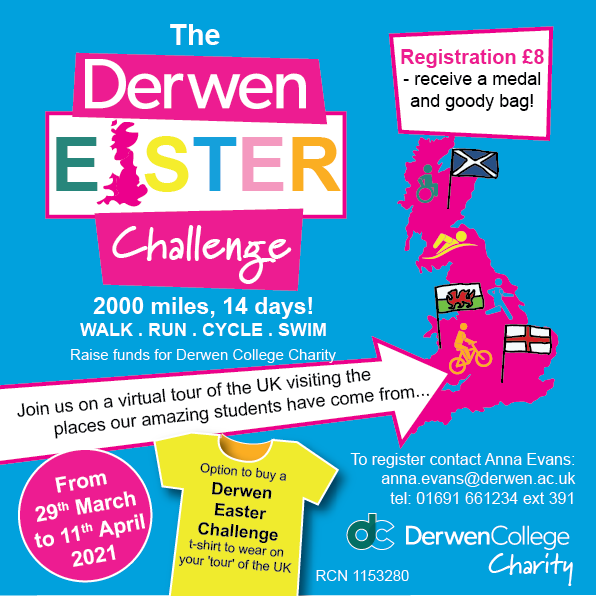 March 29th - April 11th
2000 miles in 14 days
Students, ex-students, families and staff at Derwen College have completed a virtual tour of the UK visiting the counties our students - past and present - all hail from.
This 2000 mile journey required committment and effort, but they completed their tour ahead of schedule! Can you supporrt them to extend their tour to Ireland and Northern Ireland?
They are currently heading for Holyhead Port to catch a ferry to Dublin, and then they head for Belfast.
All funds raised from this event will go towards Derwen College Charity, including the Agnes Hunt Village project
Agnes Hunt Village: A £1million project - Derwen College
Thank you!
£7,729.68
raised towards £5,000.00 target
This campaign is now closed, and no longer accepting donations.
Supporters
---
---
---
Apr 21, 2021
Martin McAtamney
£50.00
(plus £12.50 giftaid)
---
Apr 18, 2021
Anonymous
£50.00
(plus £12.50 giftaid)
---
---
Apr 13, 2021
Katie
£10.00
(plus £2.50 giftaid)
---
Apr 12, 2021
Hunrik
£50.00
(plus £12.50 giftaid)
---
Apr 12, 2021
Anonymous
£10.00
(plus £2.50 giftaid)
---
Apr 12, 2021
Ed Murray
£20.00
(plus £5.00 giftaid)
---
Total raised so far
£7,729.68
Total plus Gift Aid £8,664.68
Direct donations
£4,195.68
Raised offline £2,154.00
Fundraising pages
£1,380.00