Covid India emergency - save livelihoods
Why we need your help
Help SAVE to save lives and livelihoods through working with well-known and respected community-based organisations in India.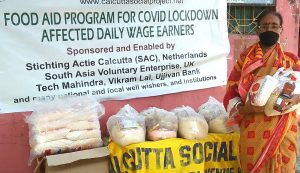 Micro finance – to allow small operators to return to some level of normalcy
PPE – providing equipment to ensure those working with the needy have adequate protection
Food Aid – for the elderly and most vulnerable, a program giving essential food rations and cooking ingredients
Education support – continuing education through on-line support
Bereavement support
At the start of the pandemic SAVE worked with the Tagore Foundation, Calcutta Social Project (CSP) and Baikunthpur Tarun Sangha, supporting nutrition programmes and providing hygiene materials. Now we need to do more, as the crisis deepens and impacts on more and more families, we need to ensure that people's lives and livelihoods can be protected.
SAVE was registered in 1994 by members of the Indian Diaspora in the UK as a non political, non religious, voluntary, charitable organisation with the sole purpose of working amongst the poor living below the poverty line, initially in India but ultimately in all the South Asian countries of SAARC group and Myanmar.
Charity and community organisations in India are trying to meet the increased demand on their services resulting from the Covid 19 pandemic. If we do not act the damage done to the poorest of the poor will be long lasting, threatening their livelihood, their savings, indeed their entire security.
Families have been devastated by loss and as deaths increase so the hardship increases. While large organisations, and nations, are providing much needed equipment, families on the breadline are facing a fight for survival.
The loss of a breadwinner in a family is devastating and we should do all we can to support families in their greatest time of need.
Supporters
---
May 14, 2021
DR SUGAT RAYMAHASAY
£25.00
(plus £6.25 giftaid)
---
May 11, 2021
Rakesh Aga
£100.00
(plus £25.00 giftaid)
---
May 10, 2021
Sara K-S
£20.00
(plus £5.00 giftaid)
---
May 10, 2021
The Khoshbin Family
£20.00
(plus £5.00 giftaid)
---
May 10, 2021
Anonymous
£25.00
(plus £6.25 giftaid)
---
May 09, 2021
Scooby
£100.00
(plus £25.00 giftaid)
---
May 09, 2021
Elora
£20.00
(plus £5.00 giftaid)
---
May 09, 2021
Menai
£25.00
(plus £6.25 giftaid)
---
May 08, 2021
Tony Bhullar
£100.00
(plus £25.00 giftaid)
---
Total raised so far
£2,015.00
Total plus Gift Aid £2,460.00
Direct donations
£2,015.00
Raised offline £0.00