Oliver! for Syria documentary
http://uk.virginmoneygiving.com/fund/oliverdocumentary
Total raised
£11,402.00
from a target of £30,000.00
Total raised (+ Gift Aid)
£12,612.25
The Trojan Women Project is one of our adopted programmes. With an inspirational group of Syrian and Jordanian kids in Jordan,they have produced the first ever Arabic adaptation of Oliver!. They filmed the process and, with your help, they want to finish the post-production of this film. It will then - as being shown at festivals, and ideally broadcast on TV - be made available to UNICEF's Syrian children's appeal for their fund-raising. They are still running therapeutic drama projects with Syrians and any extra funds raised will be used to continue their work. Below, they explain more about their work, and how you can help them.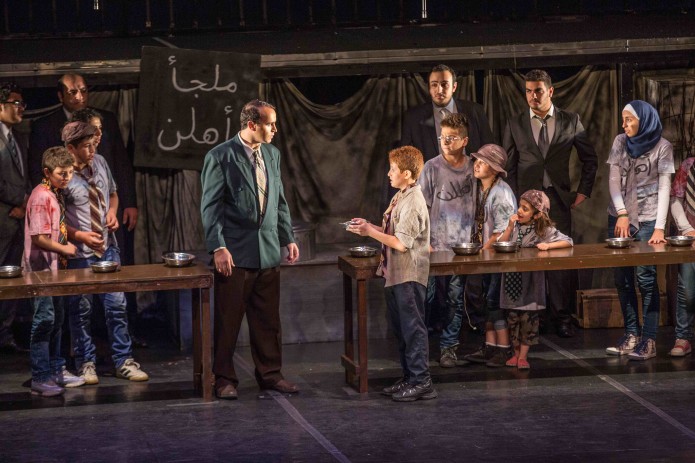 Oliver! for Syria
Oliver! for Syria is an extraordinary and heart warming film about a group of Syrian refugee children – and under privileged Jordanian children - living in the slums of Jordan's capital Amman, who come together to put on the first ever Arabic-language adaptation of Lionel Bart's great musical, Oliver! - and find themselves the toast of the town. The film, packed with Arabic versions of Lionel Bart's fantastic musical hits, is directed by the award-winning Sherine Salama (Wedding in Ramallah). It's produced by the team that has made a variety of films including the brand new (2017) The World To Hear: Queens of Syria UK Theatre tour, the award-winning Queens of Syria (2014) and the multi-award-winning short rom com, Scooterman (2010). This is a film that will make you want to sing in the streets.
HOW MUCH?
We need to raise £30,000.
WHAT'S IT FOR?
With the money we are asking for, we can hire the post-production team and equipment, pay for the picture and sound grading, and make a finished film which will do credit to all the children's hard-work in the Oliver! project. The film will then be made available to UNICEF for its Syrian children's appeal and, we hope, go out into the world and be seen at festivals and on TV.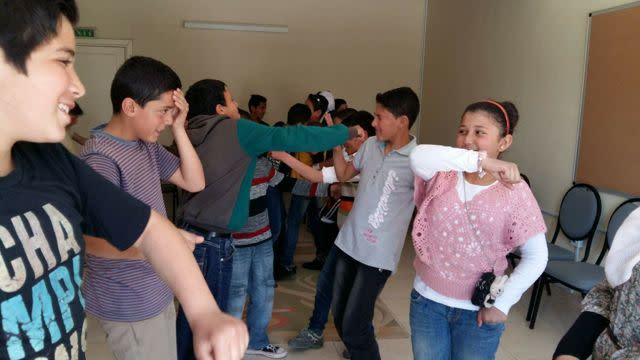 WHAT WE DO
We've been working with Syrian refugees in Jordan and Europe for the last four years, putting on combined therapeutic drama and awareness-raising campaigns. We create a fun and interesting environment for children to work through depression, trauma and isolation. We help them turn their hard work into a musical performance they can be very proud of.
And we want the world to sit up and listen about what is happening to Syrian children in this war.
This film is a key part of our project. It will give a voice to the children who worked so hard in the project, and allow them to tell their story to the world. It will carry their message far and wide. We make films about all our projects so that we can help millions more people understand what it means to be a Syrian refugee today.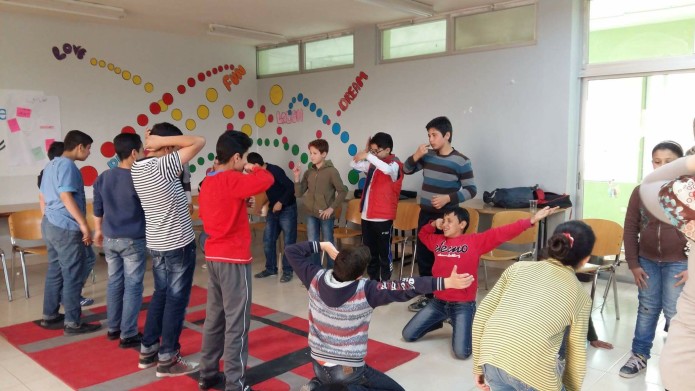 You can read more about our work at www.syriatrojanwomen.org
Who is in Oliver?
OLIVER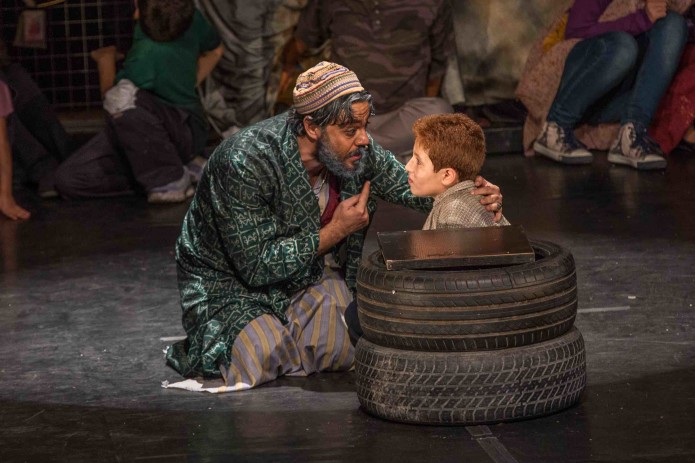 Fadi plays Oliver. Fadi was a shy, stay-at-home child who hated living in Jordan before who joined the Oliver! project. He missed his old life in Damascus, his home, his friends, the picnics his father used to take him on once a week. Fadi said: "Oliver! is a play about a child fighting for his rights, just like me."
THE DODGER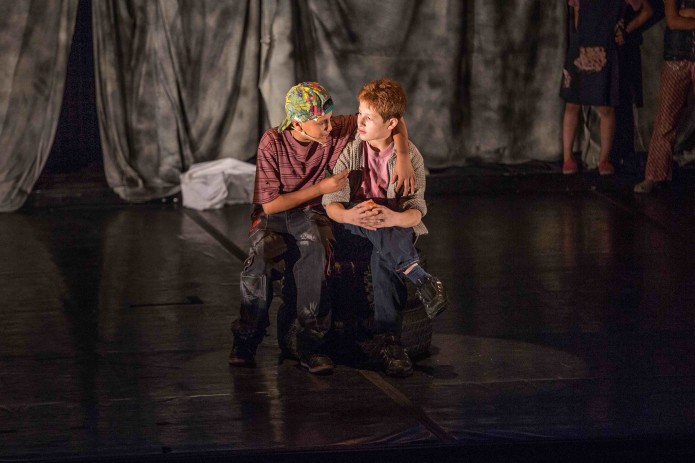 Ibrahim is The Dodger. He's Jordanian. His family were Palestinian refugees a generation ago. He wants to be an actor when he grows up. He laughed when he first saw the script of Oliver! He said: "Hashmi," the Amman slum where he lives "Is just like this. Everyone is nicking stuff all the time."
THE GANG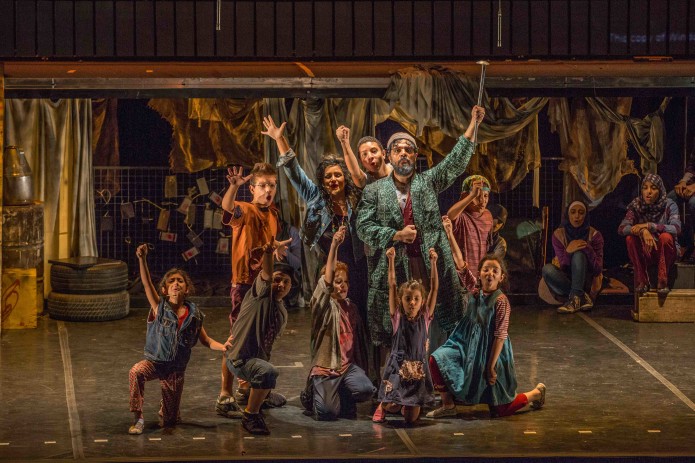 Qsai is one of the Dodger's Gang. Being a refugee has shaken his confidence. Before he worked on Oliver! he said: "I used to hate going out, and would stay at home all the time. But now I love going to the theatre every day."
WHAT IS OLIVER! IN AMMAN?
OLIVER! IN ARABIC - THE MUSICAL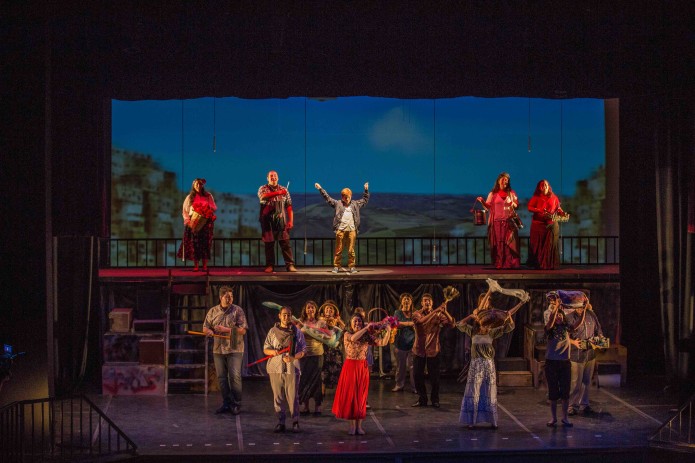 Fadi, Ibrahim and Qsai are just three of forty children who spent over six months working to put on Oliver! What began as an idea for a school play, ended up as a massive, fabulous theatrical production, directed by the Egyptian movie star and human rights activist, Khaled Abol Naga. It was performed at the prestigious Royal Cultural Centre, under the patronage of Queen Rania, with the Bulgarian National Radio Orchestra; the musical director Nayer Nagui was the former director of the Cairo Opera House and Fagin, the Egyptian Opera Star, Elhami Amin.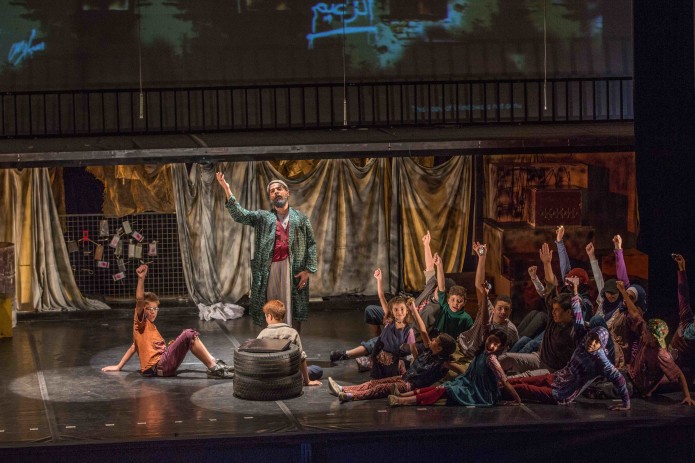 Oliver! – a musical version of Charles Dickens' great searing indictment of child poverty in Victorian London, Oliver Twist - is updated to the modern Arab world, the fantastically catchy songs translated into Arabic by Disney's top translator in the Middle East, Zainab Mobarak. With no welfare state, high unemployment, severe poverty and millions of refugees, the children see enormous parallels between their own lives and those street children in the play.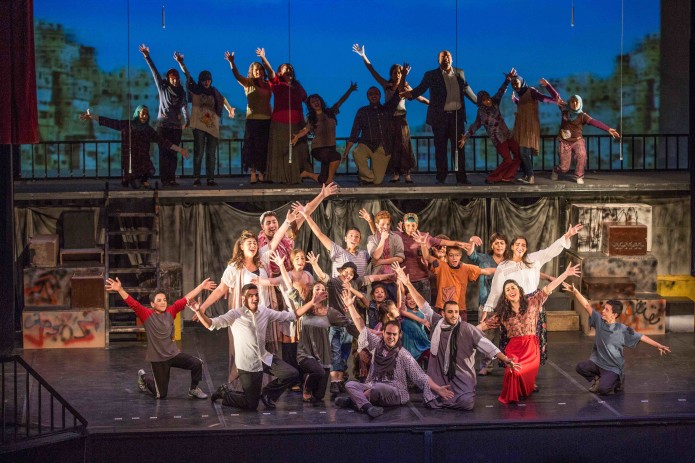 At the finale, a reprise of Consider Yourself At Home, a theme tune for refugee integration element of the production; the largely Jordanian, audience stood up, clapped, and sang along and cheered.
Despite enormous demand, Oliver! could only run for four nights in Jordan as the tickets were free and the adult team had other commitments; however, it was packed out every night, with standing ovations. We even had to open the dress rehearsal to the public because of demand. People in Jordan said it was the best production they had seen for twenty years, there were physical fights over the tickets at the box office, and people flew in from Saudi Arabia just to see it. The show was even covered by CNN.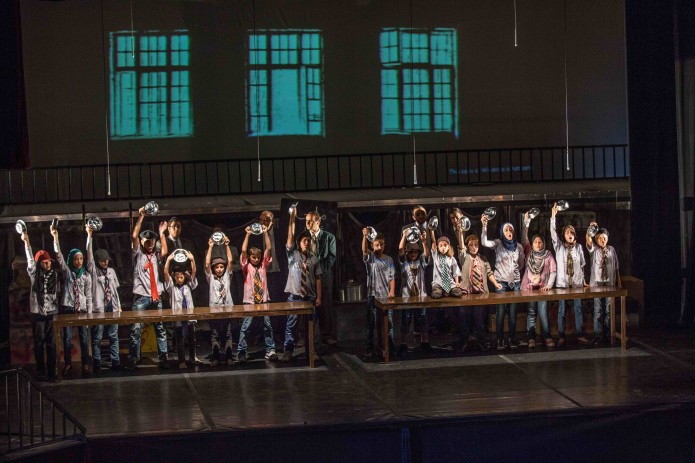 OLIVER! FOR SYRIA - THE DOCUMENTARY
The film is an observational documentary, following the group of children through their music and drama workshops in a community centre in the slums of Amman, their auditions, concentrating on the high pressure of the rehearsals last weeks in the run up to the production itself. It includes interviews with the children at home, with their parents, exploring their isolation and depression as refugees in Jordan; there are also interviews with Khaled Abol Naga, the director and Nayer Nagui, the musical director.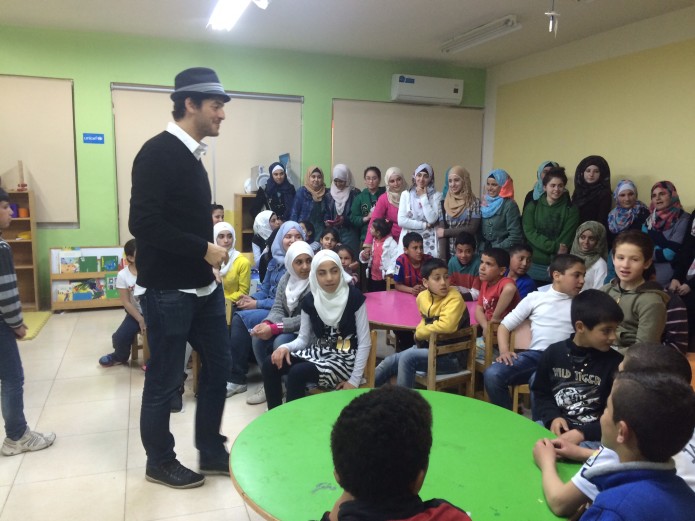 The film shows the children's growing confidence and belief in their skills; and, through the musical, their ability to reach out to the people of Jordan themselves, who embraced their work in the musical – for a while at least - all prejudice was put aside as Jordan celebrated the Syrian children and their work. As the director, Kal, said: "I want to take people who are on the very outskirts of society, and put them at the centre of that society".
Although the film is in Arabic, with sub-titles, the international nature of the story, and the famous tunes, mean that it is very comprehensible to a British and international audience.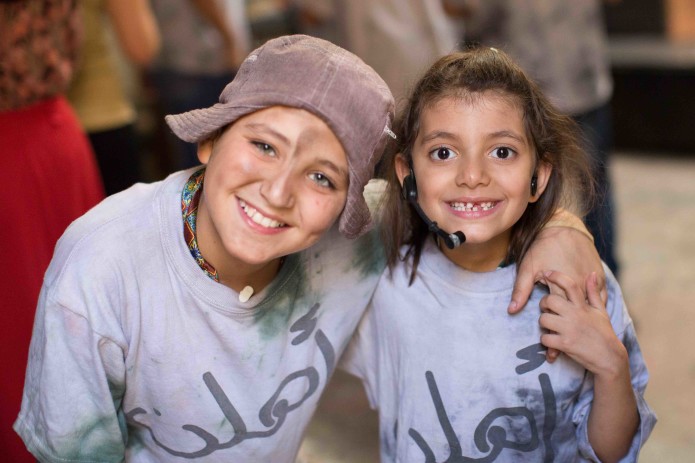 But we need your help to finish this film.
WHAT HAPPENS IF WE DON'T GET ALL THE MONEY?
If we don't reach our target, then we should have the rough cut of the film that we can take to other potential investors, funders or broadcasters - or give a fund-raising screening and ask for more money!
WHAT HAPPENS IF WE GET MORE MONEY THAN WE ASKED FOR?
We are still running therapeutic drama projects with Syrian refugees in Europe and the Middle East and any extra funding will go towards continuing our work.
WHAT TO DO IF YOU CAN'T HELP YOURSELF BUT LIKE THE IDEA
Please pass this link along to any friend you think might be interested. This is a fabulous opportunity to help spread the word about the Syrian refugee crisis - and help make a unique film. Use the Indiegogo share tools!
Select the amount you wish to give
Total donations: £6,481.00
£250.00 (+ £62.50 giftaid)
£100.00 (+ £25.00 giftaid)
£60.00 (+ £15.00 giftaid)
Lansdown Film Club
03.04.18
£100.00 (+ £25.00 giftaid)
£500.00 (+ £125.00 giftaid)