Derwen College
Mack's Challenge
Why we need your help
On Sunday July 7th, Derwen College student Mackenzie Beeson along with fellow students, Ben Aston; Dan Fitzroy-Ezzy; Adam Ffoulkes-Fenner; Jamie Bullock; Jacob Mitchell; Joseph Glaze; Joe Simpson and George Raffle successfully cycled 14 miles around Lake Vyrnwy in Mid Wales.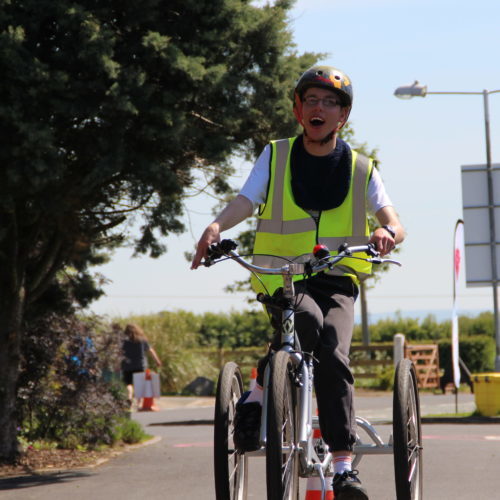 Mack, who completed the challenge on his adapted bike was not the only one using adapted bikes. Student Joe Simpson and Derwen College Sports Coordinator, Steve Evans also used used adapted bikes.
Mackenzie, from Aberdyfi in Gwynedd, has speech and language difficulties and learning difficulties, but has never allowed his disabilities to hinder his ambitions. He has a love of cycling on his specially adapted bike, and a determination to prove that anything is possible.
Please support Mack and his friends and help them raise funds for Derwen College!
This campaign is now closed, and no longer accepting donations.
Supporters
Jul 17, 2019
Ann Glaze
£50.00
(plus £12.50 giftaid)
---
Jul 09, 2019
Katie Hayward
£100.00
(plus £25.00 giftaid)
---
Jul 08, 2019
The Mitchells
£100.00
(plus £25.00 giftaid)
---
Jul 08, 2019
Stephanie Fenner
£20.00
(plus £5.00 giftaid)
---
Jul 06, 2019
Julie
£5.00
(plus £1.25 giftaid)
---
Jul 05, 2019
Jan preston
£20.00
(plus £5.00 giftaid)
---
Jul 05, 2019
Anonymous
£20.00
(plus £5.00 giftaid)
---
Jul 05, 2019
Anthony
£100.00
(plus £25.00 giftaid)
---
Jul 04, 2019
Susie - Jamies Mum
£50.00
(plus £12.50 giftaid)
---
Jul 04, 2019
Anonymous
£10.00
(plus £2.50 giftaid)
---
Total raised so far
£1,354.00
Total plus Gift Aid £1,537.75
Direct donations
£1,015.00
Raised offline £339.00