3 Men in a Boat - MAY 24th-29th
Why we need your help
Shipston Home Nursing are a local Charity founded in 1997 with the purpose of caring for patients with illnesses which do not respond to curative treatment and who wish to be nursed at home. Our Nursing Services are managed through a team of Registered General Nurses specialising in palliative care supported by Health Care Assistants. We care for the patient and their family, in their own homes throughout the period of their illness. This service is free of charge
Please dig deep and support the rowers on their epic voyage!
The
#Threemeninaboat
challenge is complete (a day early)! 3 men, 1 boat, 5 days, 85 miles. From everyone at Shipston Home Nursing, congratulations
David, Jonathan and William on an amazing challenge raising over £22,000 for
Shipston Home Nursing

.
We hope you have a well deserved restful Bank Holiday weekend
__________________________________________________________________
Now, after carefully reviewing the latest Government plans and advice, it looks likely that we will be able to safely run this event this year, albeit with a few changes.
For example, whereas the crew had been looking forward to the odd night in a Thames-side hostelry, the crew are now looking forward (ish) to camping and even cooking their own food! This self-sufficient approach, with the march of the vaccine programme and the latest Government plans gives us confidence that 2021 will be the year.
"3 Men In A Boat"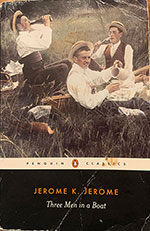 To quote Jerome K Jerome, "Among folk too constitutionally weak, or too constitutionally lazy, which ever it may be, to relish up-stream work, it is common practice to get a boat at Oxford, and row down to London"
and so it was with relative ease that a group of three suitably qualified individuals (David Williams, Jonathan Davies, William Dockar Drysdale) formed with the firm resolve of rowing from Oxford to London to raise some
serious funds
for the wonderful thing that
is Shipston Home
Nursing.
The basics remain the same, following the journey of Jerome K Jerome's famous book (David Williams, Jonathan Davies, William Drysdale) will be starting at Donnington Bridge in Oxford on Monday 24th May, we will be rowing the 85 or so miles to London, aiming to arrive at Walton-on-Thames on Saturday 29th May. One of the few up-sides of the last year is that certain crew members have lost a bit of weight and got a bit fitter!
Taking an original Thames camping skiff our plan will take us from Oxford via Radley, Abingdon, Clifton Hampden, Wallingford, Moulsford, Pangbourne, Reading, Shiplake, Henley, Marlow, Maidenhead, Windsor, Staines, Weybridge and Walton-on-Thames - with our aim being to "camp" aboard.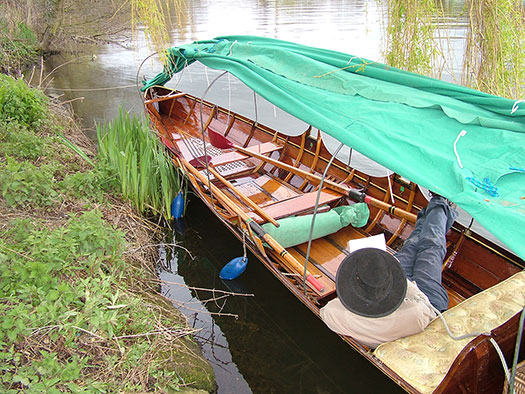 Amazingly we have managed to secure a commitment from a private benefactor who has generously agreed to double whatever we raise before June 1st, up to a maximum of £10,000. The good news is we've already raised over £3,450, so please give whatever you can. So, if we can raise £10k with your help, our benefactor will double this to make a total of £20k, which would be amazing. Please donate to this page if you can
We had originally hoped to be able to offer people a "seat' in the boat for a day in return for a donation. Sadly we're not going to be able to do that this year but a big thank-you to those who offered last year.
Finally, we hope to set up a web-cam on the boat so you can keep track of the progress - more details on this nearer the time.
"In early 2015 SHN provided fantastic support for my father in his last days and for that I will always be grateful - so it's great to have an opportunity to raise some money for this fantastic organisation which, after all, totally relies on fundraising. The actual rowing bit, if I'm honest, is a long held ambition inspired from reading Jerome K Jerome's classic book as a young boy and having been at a school where I think I spent more time on the Thames than I did in a classroom. I hope to bring some skill to the mission - we'll see!"
"I learnt to row a boat when I was about 8 - although I don't think I've rowed another one since I was about 9. Never mind, 85 miles, downhill all the way. How hard can it be? Well, quite hard I suppose, very hard in fact. But accepting the challenge to row down the Thames in turn of the century boating gear in support of local charity Shipston Home Nursing who in turn support so many people at the hardest time of their lives was not difficult. It will be worth every drop of sweat, every blister, every strained muscle to help our very own Hospice At Home. And I'm comforted by our skipper's meticulous planning - he's promised a suitable watering hole round every bend of the river. We'll see!"
"My Mother died several years ago of cancer and I look back with very mixed emotions, but she died at home, where she wanted to be, with her family around her. In my eyes and mind it was as 'good' a death as possible and greatly helped with my bereavement afterwards.As a local GP I often have the privilege of witnessing the amazing work that the charity Shipston Home Nursing does to enable people to have as good a quality of life in their final months, weeks and days as is possible and to have a 'good' death where they want. SHN is local charity that looks after people with any life-shortening illness and I'm looking forward to rowing downstream from Oxford to London raising money for a fantastic charity. Thank you so much for your support in whatever form."
Supporters
---
Jun 05, 2021
Keith and Christine Sumner
£10.00
(plus £2.50 giftaid)
---
Jun 03, 2021
Anonymous
£10.00
(plus £2.50 giftaid)
---
Jun 02, 2021
Shane @ Sheldons
£102.00
(plus £25.50 giftaid)
---
Jun 01, 2021
Stretton On Fosse Greenfingers Gardening Club
---
May 31, 2021
Anonymous
£5.00
(plus £1.25 giftaid)
---
May 31, 2021
Anonymous
£20.00
(plus £5.00 giftaid)
---
May 30, 2021
Martin and Sue Goodman
£20.00
(plus £5.00 giftaid)
---
May 30, 2021
Agnes, Martin and little Dominik
---
May 30, 2021
Steve & Kym.
£20.00
(plus £5.00 giftaid)
---
Total raised so far
£21,277.00
Total plus Gift Aid £22,660.00
Direct donations
£9,387.00
Raised offline £11,890.00