Grandpont Nursery School Association
Oxford Family Triathlon 2021
Why we need your help
Support our work with babies and children, and have fun with your family in the open air!

We had so much fun, and my 7-year-old is thrilled to have completed the whole thing! – Helen Johnson
The Oxford Family Triathlon happens near the centre of Oxford, and raise money to support familes in the area via the South Oxford Family Room (part of Grandpont Nursery School) which is one of the few centres that has been running for families, where permitted, throughout the current pandemic. The event is intended to be inclusive rather than competitive, so the events are not timed, and there are no awards for speed. Children of all ages can participate: in previous years we have had families and children from toddlers upwards.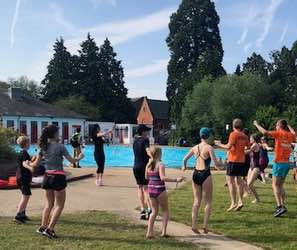 The total distance covered is 8 kilometres: 6 lengths of the Hinksey Pool (200m), 3 running laps of Dean's Ham field (1.8 km), and 4 cycling laps of Grandpont Nature Park (6 km). Participants who do not wish to complete the whole course can cover shorter distances (e.g. fewer laps or lengths of the pool), and accomplish the triathlon relay-style with their family group: this allows even small children to take part.

For more information see http://triathlon.sofr.org.uk
£7,572.48
raised towards £10,000.00 target
This campaign is now closed, and no longer accepting donations.
How you can support us
Make a donation
Select the amount you'd like to give or fundraise towards
Supporters
Oct 11, 2021
Anonymous
£100.00
(plus £25.00 giftaid)
---
Sep 29, 2021
Anonymous
£25.00
(plus £6.25 giftaid)
---
Sep 18, 2021
BBT Trustee
£50.00
(plus £12.50 giftaid)
---
---
Sep 06, 2021
Ga_Ga
£50.00
(plus £12.50 giftaid)
---
Sep 06, 2021
Nigel Sprent
£10.48
(plus £2.62 giftaid)
---
Sep 05, 2021
Margaret
£20.00
(plus £5.00 giftaid)
---
Sep 05, 2021
Clare Whyles
£50.00
(plus £12.50 giftaid)
---
Sep 05, 2021
Sidebottom
£40.00
(plus £10.00 giftaid)
---
Sep 05, 2021
Anonymous
£10.00
(plus £2.50 giftaid)
---
Total raised so far
£7,572.48
Total plus Gift Aid £9,126.60
Direct donations
£1,495.48
Raised offline £350.00
Fundraising pages
£5,727.00