DEMAND (Design And Manufacture For Disability)
Help disabled people live life their way
Why we need your help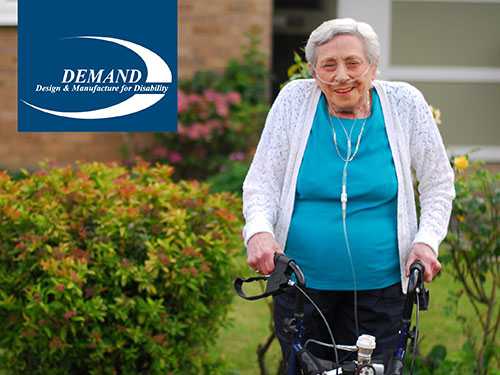 "They cut it in half, built the cage and I can put the bottle of oxygen inside. Then I had my freedom again!"
75 year old Sarah became unwell and needed to use oxygen 24 hours a day, but just couldn't find a way to carry the heavy oxygen bottle. She was stuck inside and couldn't leave the house unless her daughter came to help. Sarah was becoming isolated and having trouble adjusting to the loss of independence she so valued, she found herself running out of options.
Our engineers visited Sarah at her home to assess her needs and decided that using a walking frame to hold the oxygen bottle would be the perfect practical solution.
With a clever adaptation to her walking frame, Sarah has regained her freedom and independence, is able to socialise, shop and get out of the house whenever she pleases.
In the UK we are estimated to spend over £500 million on disability equipment each year. Wheelchairs, mobility aids, jar openers, key turners and all sorts of assistive devices help people to live more independent lives.
But all too often, people find that the available disability equipment just doesn't meet their needs. Everyone is different and their requirements for disability equipment are different too. In many cases off-the-shelf kit just doesn't cut it.
By adapting and modifying disability equipment so it exactly suits someone's needs, they can enjoy a new experience, gain independence and be empowered to live life their way.
With your support we can provide freedom, independence and new opportunities for more people like Sarah. Together we can transform life in practical ways for disabled people all over the UK.
Right now, there are 40 people waiting for help from our skilled team, please help us provide the support they and so many others need as quickly as possible.
£125.00
raised towards £10,000.00 target
This campaign is now closed, and no longer accepting donations.
How you can support us
Make a donation
Select the amount you'd like to give or fundraise towards
Supporters
Apr 13, 2017
Anonymous
£50.00
(plus £12.50 giftaid)
---
Mar 30, 2017
Anonymous
£50.00
(plus £12.50 giftaid)
---
Total raised so far
£125.00
Total plus Gift Aid £150.00
Direct donations
£100.00
Raised offline £25.00