Lollipop (York and District)
2-6 Challenge for Lollipop
Why we need your help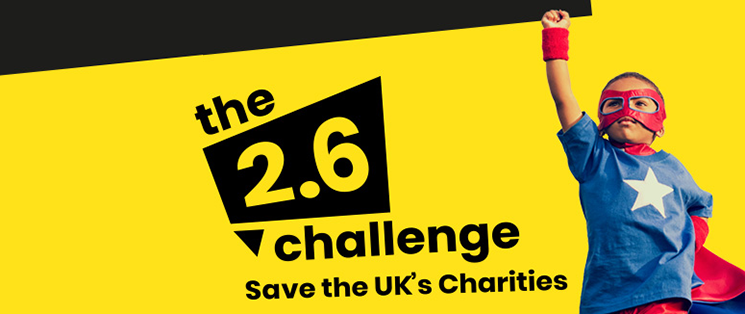 Hello! Welcome to Lollipop York's fundraising and donation page for the 2.6 Challenge!
As a result of the coronavirus (Covid-19) pandemic, Lollipop has had to cancel all our sessions and activities for the next few months. In addition, all of our fundraising events for the next 6 months have also, understandably, been cancelled. We know we're not alone – charities across the UK are losing billions of pounds in fundraising income over the next 6 months and the 2.6 challenge is a great way to support charities that are close to your heart.
What is the 2.6 Challenge?

The idea of the 2.6 challenge is to take part in an activity of your choice, based around the numbers 2.6 or 26, and fundraise or donate to support Lollipop. You can be as creative as you like with your activity! People all across the UK will be taking part. Most people are taking part from Sunday 26 April, this is the day the challenge will launch as it should have been the day of the 40th London Marathon, but you can do your activity whenever works best for you.
It's just really important to remember when taking part in the challenge that you must follow Government guidelines on exercise and social distancing.
How to join in
1. Invent your 2.6 challenge! See the ideas below for some inspiration!
2. Set up your fundraising page by clicking on the 'Start Fundraising' button below to link your page to Lollipop's 2.6 Challenge
3. Complete your challenge!
4. Send your photos and videos to us via email to Becky - info@lollipopyork.org.uk or tag Lollipop in your Facebook photos using @lollipopyork
Click the 'Start Fundraising' button below to start your fundraising challenge!
Here are some of our suggestions... you could...
Sign the BSL alphabet in 26 seconds whilst wearing 26 pieces of clothing

Learn 26 new BSL signs for different animals/places/theme of your choice

Use sign language for 2.6 hours (2 hours and 36 minutes!) or 26 hours

Do 2 or 6 TikTok challenges

Bake 26 delicious cupcakes or biscuits

Try 26 new foods

Make up a new dance with 26 moves and teach it to your family

Choose your 26 favourite Lego pieces and make a model out of them
We hope you'll join in and thank you for your support!
#twopointsixchallenge
This campaign is now closed, and no longer accepting donations.
How you can support us
Make a donation
Select the amount you'd like to give or fundraise towards
Supporters
May 04, 2020
Anna M-A
£10.00
(plus £2.50 giftaid)
---
May 03, 2020
Caroline Walliss
£10.00
(plus £2.50 giftaid)
---
Apr 27, 2020
Malcolm
£15.00
(plus £3.75 giftaid)
---
Apr 26, 2020
Steve Trimmins
£26.00
(plus £6.50 giftaid)
---
---
Apr 26, 2020
Anonymous
£26.00
(plus £6.50 giftaid)
---
Apr 24, 2020
Mel
£10.00
(plus £2.50 giftaid)
---
Total raised so far
£259.33
Total plus Gift Aid £311.45
Direct donations
£107.00
Raised offline £0.00
Fundraising pages
£152.33