Spread the winter warmth
Why we need your help
Don't need your Winter Fuel Allowance? Spread some winter warmth.
Why not donate it like Michael to those who need it more.
"This is an excellent way for local people to help some of the most vulnerable people in their community. I've passed my payment on, and encourage everybody who can, to do so too."
Michael - donor
What is a Winter Fuel Payment?
A Winter Fuel payment is a one-off, tax-free payment of between £100 and £300 made during the winter to help with heating costs. It is made to households with someone over Pension Credit age. Most people born on or before 5 April 1954 will qualify for a payment in 2019/20, (the date changes every year).
When and how is it paid?
Most payments are made automatically during November and December. If you apply for the first time, you should receive your payment before Christmas. The amount you can receive each winter can vary according to your personal circumstances.
If I donate some/part of my Winter Payment to The Welcome Centre, how will it be used?
A donation between £100 and £300 can make a big difference to our charity. It will be used to support local people in crisis within our community. For example
£300 will provide 16 people with enough food to last a week. This is equivalent to 323 meals of food.

£200 will provide seven couples with food for a week.

£100 will feed two families of four for a week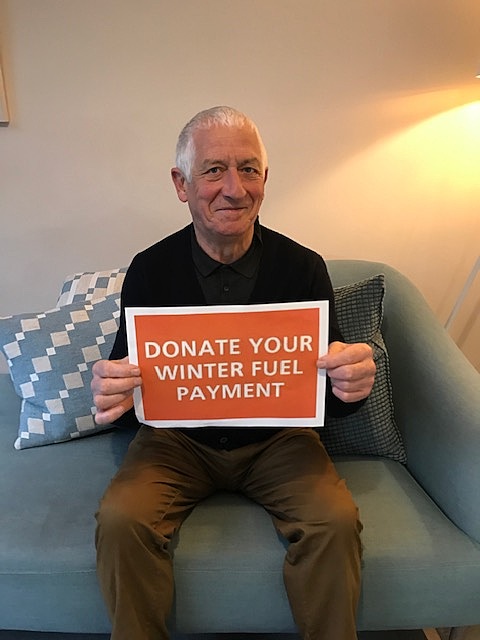 £650.00
raised towards £1,000.00 target
Supporters
---
Nov 22, 2019
Anonymous
£100.00
(plus £25.00 giftaid)
---
---
Nov 16, 2019
Barry
£100.00
(plus £25.00 giftaid)
---
Nov 14, 2019
Anonymous
£200.00
(plus £50.00 giftaid)
---
Nov 12, 2019
Anonymous
£100.00
(plus £25.00 giftaid)
---
---
Donation summary
Total raised so far
£650.00
Total plus Gift Aid
£775.00
Direct donations
£650.00
Fundraising pages
£0.00