The Whitechapel Mission
Homepage
The Whitechapel Mission has been serving the homeless and marginalised for 144 years – including a day centre, skills training and career advice, activity programmes and specialist support for complex needs.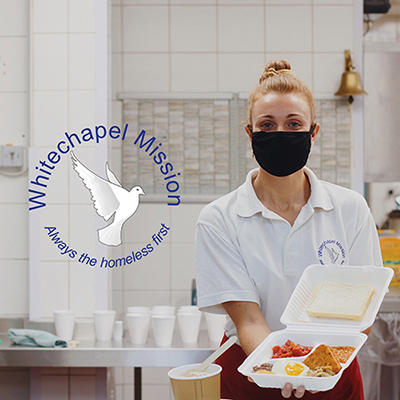 Our centre in Whitechapel is open every day providing free; food, clothing, showers and advice. We are open to all, and we provide help face to face, by telephone and online. We believe everyone deserves chance, regardless of their background, race or religion.
Our goal is to help people to help themselves, giving them the confidence they need to become independent, which we do through practical support and advice and by teaching the life skills they need to succeed.


We believe in keeping promises, which we use to guide our work, 365 days of the year:
We promise our guests that we will provide a warm and welcome place for them to come, built on trust, belonging and understanding.
We promise our colleagues and volunteers that we will give them a safe environment for them to work in and a real opportunity to make a positive impact on the lives of the people they support.
And we promise our supporters that every penny they give us will always go directly to services and to support our clients.