Disability Sheffield Centre For Independent Living
Accessible Sheffield
Accessible Sheffield is a partnership between the Access Card & Carers Card (Nimbus), Disability Sheffield, DisabledGo and Sheffield City Council working towards making Sheffield a more accessible City for disabled people.
Access Card
The Access Card is a card like no other, we translate your disability / impairment into symbols which highlight the barriers you face and the reasonable adjustments you might need.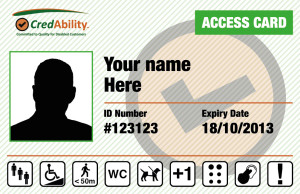 This then informs providers quickly and discreetly about the support you need and may gain you access to things like concessionary ticket prices and complex reasonable adjustments without having to go into loads of personal detail.

Its all based on your rights under the Equality Act and providers responsibilities.*

Access CardSome organisations are now using the card to passport the need to provide evidence (*commonly where there may be an opportunity to otherwise fraudulently access reasonable adjustments by non-disabled people). Where this is the case the Access Card is an optional way to simplify your bookings with several providers.
Applying online is easy – visit this link: www.accesscard.org.uk/apply and complete the application form. You can upload all of your supporting information or send it through later.

To qualify for the free card as a Sheffield Resident enter the code DisabilitySheffield when you get toward the end of the form.

If you'd like a paper copy of the form you can download one from the same web page or call us and we'll send one out to you.

Remember: There are only a limited number of free cards and they are going quickly so get yours now.
Carer Card
The Carer Card is similar to the Access Card in that it informs providers quickly and discreetly about the support you need as a Carer and may gain you access to things like concessionary goods and services without having to go into lots of confidential personal detail.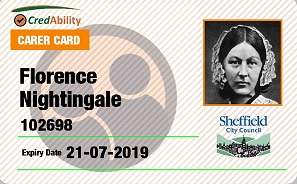 The Carer Card has been designed as a specific response to the barriers that carers face and to recognise and reward carers for the work that they which is mostly unpaid. Sheffield City Council have funded this project which will enable carers for the first time to have a card that they can show to providers in recognition of their caring role.
We are busy talking to Sheffield shops and services and many participating businesses will offer 5-20% discount for carers who carry the card.
Like the Access Card applying online is easy and a paper copy of the form will be downloadable from the website or we can send you one. Visit this link: http://www.accesscard.org.uk/carer-card/carer-card-application/ and complete the application form. You can upload all of your supporting information or send it through later.
The aim is to increase the number of providers as time passes but already we hope the cost of £10 for three years will prove a worthy investment.
Watch this space for the full list of participating retailers or watch out for the stickers in shop windows……and please do carry your card wherever you go as you never know!
CredAbility
CredAbility is an accreditation and quality assurance system which lets a business show they are committed to quality for disabled customers. Because it was designed and developed by disabled people it reflects what good practice should look like when providing services to a disabled customer. Who better to know the barriers faced when trying to access goods and services than those who live them on a daily basis.

Getting your business involved couldn't be easier and there are lots of different opportunities to suit all sizes and types of organisation. If you would simply like to submit a free listing on the website then submit your entry via this page or print off the printable Business Offer Form on the left.
To find out more about CredAbility and different levels of involvement visit the CredAbility Pages on the Nimbus website.
Disability Sheffield
Our role is to provide expert local advice and guidance on the Accessible Sheffield project. We will be responsible for engaging with individual disabled people and carers and providing additional support and training to businesses who would like to make their service more accessible for disabled people.
"Charging a disabled supporter and their PA a total greater than the full price of one ticket for the disabled supporter (including any concession for which they are eligible) would be likely to be unlawful. Where a disabled person requires personal support in order to attend a match, if the club do seek to charge for a PA and the disabled person refuses, the club would have to make reasonable adjustments – in particular arranging their own support – to allow the disabled person to access the services they provide." Premier League Guidance for Clubs on Disabled Fans and Customers
DisabledGo
DisabledGo is working in partnership with Sheffield City Council to provide an access guide to 1000 venues covering Sheffield. DisabledGo provides information on all sorts of venues such as: shops, restaurants, leisure centres, hotels, parks, places of worship, resource centres and many more.
Next year sees Sheffield as the 2017 host of the Special Olympics and DisabledGo are putting together a detailed guide listing all Special Olympic venues, once moderated it will be made available with the rest of our special city guides. The Sheffield Guides also have room for user feedback offering added value and reassurance from peoples lived experience in addition to the technical information available from the access auditors.
The guides are totally free to use and of interest to both residents and visitors. Here is a link to the Sheffield Guides which are part of the Accessible Sheffield Project. They are available in paper based format too.
Nimbus
Nimbus is one of the country's leading providers of disability related advice and support to business. They provide a wide range of training and consultancy services and are also the creators of the national and local schemes CredAbility Quality Assurance, the Access Card and the Carer Card. Please see further details below under Providers, Services & Shops.
Sheffield City Council
Sheffield City Council has set up the Disability Hub, part of
the "Equality Network Hub" for individuals and organisations to work with the Council and partners to take action on equality and fairness issues.
Providers, Services & Shops
Are you are looking to take your pro-active commitment to disabled customers to a different level? If so, then CredAbility could be just what you are looking for.
These are just a few of the benefits of becoming a CredAble Provider:
Full use of the CredAbility logo in marketing material

The CredAbility Charter to display.

Featured listing on the local directory and a link on the CredAble Providers map.

Promotion of your business directly to disabled people, support planners/brokers, social services and Local Authorities.

Regular Offers and Discounts from other services

Provider Hub Meetings and Meet the Buyer events with a chance to shape local services and develop the market.

An invitation only LinkedIn group and promotion of your business through various social media outlets such as Twitter and Facebook.

A chance to be part of a growing movement which takes pride in its commitment to disabled customers (actually we think this one is the most important!).
To find out more
You can view the leaflet by clicking on the link on the left. Alternatively find out more via the CredAble pages or call our friends at Nimbus on 01332 404023
If you are ready to apply now then please click here to complete the online form or request a paper application by email.
The directory is free and gives you the opportunity to advertise your services directly to disabled people and carers, support brokers and social workers.
CredAble Providers will be distinguished by a tick mark symbol next to their listing.
Please call Andrew or Kathryn on 0114 253 6750 or email accesscard@disabilitysheffield.org.uk to discuss anything related to Accessible Sheffield and the Access Card and Carer Card